Donnell J. Creel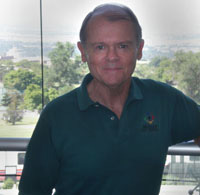 Research Professor of Ophthalmology and Visual Sciences
Neurobiology of Disease
e-mail: donnell.creel@hsc.utah.edu
B.A. 1964, M.A. 1966, University of Missouri, Kansas City; Ph.D. 1969, University of Utah
RESEARCH:
Clinical visual electrophysiology
Dr. Creel is interested in the role of melanin pigmentation in the development and function of the visual and auditory systems. Research efforts include visual and auditory anatomical studies, scalp-recorded evoked potentials in humans, and psychophysical studies. Clinical research interests center around the application of evoked potentials and electroretinography.
Selected Publications:
Byrne, S., Jansen, L., U-King-Im, J.M., Siddiqui, A., Lidov, H.G., Bodi, I., Smith, L., ... Creel, D.J., et al (2016) EPG5-related Vici syndrome: a paradigm for neurodevelopmental disorders with defective autophagy. Brain, 139 (March), 765-781.
Xu, M., Gelowani, V., Eblimit, A., Wang, F., Young, M.P., Sawyer, B.L., Zhao, L., Jenkins, G., Creel, D.J., Wang, K., Ge, Z., Wang, H., Li, Y., Hartnett, M.E., and Chen, R. (2015) ATF6 Is Mutated in Early Onset Photoreceptor Degeneration With Macular Involvement. Invest Ophthalmol Vis Sci, 2015;56:3889-3895.
Filloux, F.M., Hoffman, R.O., Viskochil, D.H., Jungbluth, H., and Creel, D.J. (2014) Ophthalmologic features of Vici syndrome.J Pediatr Ophthalmol Strabismus, 51(4), 214-220.
Creel, D.J. (2014) Visual and Auditory Anomalies Associated with Albinism. In H. Kolb et al. (Ed.), Webvision. Webvision.med.utah.edu, Part XI.
Creel, D.J. (2014) Evaluating hydroxychloroquine toxicity with multifocal electroretinography. Advanced Ocular Care, 5(6):63-66.
Creel, D.J. (2012) Visually Evoked Potentials
Creel, D.J. (2011) Electroretinograms and Electro-oculograms: Clinical Electrophysiology.