Upcoming Seminars 2021-2022
---
Tuesdays, Eccles (EIHG) Auditorium, 4:00-5:00 P.M.
(Fall semester seminars 2021 will be held via Zoom)
September 21: Ukpong Eyo, Ph.D., University of Virginia School of Medicine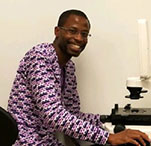 Assistant Professor, Department of Neuroscience
"Microglia regulate neuron and vascular function"

Faculty Host: Karen Wilcox, Pharmacology & Toxicology
Student Host: Laura Bell

Research Summary: Research in the MicroglEyo Lab is focused on understanding microglial activity in neurodevelopment and neurodevelopmental pathologies. We work on the premise that to adequately appreciate how to treat injuries and disorders of the brain, an adequate understanding of development is important. Microglia are the brain's primary resident-immune cell. They have emerged as critical cellular players in brain development, yet our understanding of the specific processes and molecular mechanisms employed by microglia in regulating proper development of the brain are in its infancy. Moreover, how microglia contribute to various pathologies of the developing and mature brain requires further research attention. The MicroglEyo lab's objective is to identify and elucidate the mechanisms by which microglia regulate normal brain development and determine their reactivity and contributions during abnormal brain development, acute injury or diseased conditions.
---
October 19: Lisa Giocomo, Ph.D., Stanford University

Associate Professor, Department of Neurobiology, Wu Tsai Neuroscience Institute
"Multiple maps for navigation"

Faculty Host: Jim Heys, Neurobiology
Student Host: Erin Bigus

Research Summary: The Giocomo Lab integrates electrophysiology, behavior, imaging, gene manipulations and computational modeling to study how single-cell biophysics and network dynamics interact to mediate spatial memory and navigation.
---
November 16: Lindsay Schwarz, Ph.D., St. Jude Children's Research Hospital

Faculty, Department of Developmental Neurobiology
"Diversity in norepinephrine neural circuits"

Faculty Host: Megan Williams, Neurobiology
Student Host: Arnulfo Tuñon-Ortiz

Research Summary: Our lab is interested in identifying and characterizing novel mechanisms that regulate the function of NE circuits in vivo, towards understanding how these brain circuits help to generate distinct behaviors depending on the situation.
---
January 18: Georg Oeltzschner, Ph.D., John Hopkins University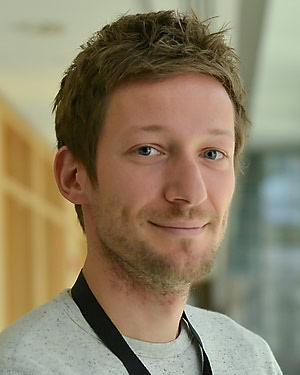 Assistant Professor, Department of Radiology and Radiological Science, John Hopkins University
"Advanced in-vivo magnetic resonance spectroscopy"

Faculty Host: Brian Mickey, Psychiatry
Student Host: Keith Jones

Research Summary: Dr. Georg Oeltzschner is an Instructor in the Johns Hopkins Medicine Department of Radiology and Radiological Science. His research interests concern the development of advanced magnetic resonance spectroscopy (MRS) acquisition techniques for low-concentration brain metabolites and novel data processing and quantification methods. He is involved in a number of national and international projects using these techniques to study the neurochemistry in the healthy and diseased human brain.
---
February 15: Karin Peterson, Ph.D., National Institute of Allergy and Infectious Diseases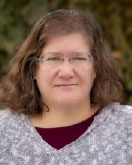 Chief, Neuroimmunology Unit
"Neuropathogenesis of Orthobunyaviruses"

Faculty Host: Mario Capecchi, Human Genetics
Student Host: Kayla Eschenbacher

Research Summary: Virus infection of the Central Nervous System (CNS) can lead to damage to neurons and the development of neurological disease. Multiple cell types in the CNS are activated during virus infection and have important roles in regulating viral pathogenesis. The goal of our laboratory is to examine the interactions between the immune and nervous systems in regulating viral pathogenesis with the ultimate goal of identifying targets for therapeutic treatment of viral-mediated neurological diseases. We primarily utilize two different models of viral infections that mediate neuronal damage via either direct or indirect mechanisms. One model utilizes La Crosse Virus (LACV), a bunyavirus that is one of the leading causes of pediatric viral encephalitis in the United States. LACV induces neuronal apoptosis by directly infecting neurons. The other model of viral neuropathogenesis is a retrovirus model, where microglia and macrophages are the primary cell type infected in the CNS. In this model system, the damage to neurons is indirect. Our work with these viruses has identified mechanisms of both neuronal damage and neuronal protection that are mediated by specific interactions of the immune system with cells of the central nervous system. We are currently examining the regulation of these pathways and mechanisms in order to inhibit viral pathogenesis in the CNS.
---
March 15: Kate Wassum, Ph.D., University of California, Los Angeles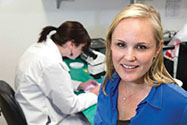 Associate Professor, Department of Psychology
"Neural circuitry of reward learning and pursuit"

Faculty Host: Moriel Zelikowsky, Neurobiology
Student Host: Kevin Sattler

Research Summary: Associative memories underlie a large majority of our emotions, motivations, and decisions. We strive to understand how these memories are formed and stored in the brain and how they combine with one's current state to dictate behavior. Our ultimate goal is to facilitate the understanding and treatment of the mental illnesses, such as drug and alcohol addiction, that arise from disruptions in these neural systems.
---
April 19: Dayu Lin, Ph.D., New York University Langone Health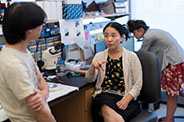 Associate Professor, Departments of Psychiatry and Neuroscience & Physiology
"Neural mechanisms of aggression"

Faculty Host: Moriel Zelikowsky, Neurobiology
Student Host: Rachel Gatlin

Research Summary: Social behaviors such as mating, fighting, defense, predation and parenting, are innate, indispensable and ubiquitous across the animal kingdoms. Research in our laboratory centers on understanding the neural circuits underlying these powerful behaviors in a genetically tractable model system, mice. We are interested in investigating how the sensory information is relayed, integrated, extracted and diverged to ultimately cause the behavioral output. Various genetic engineering, tracing, functional manipulation, in vivo electrophysiological recording and computational tools are combined to dissect the neural circuits in a great detail.
---