What makes the University of Utah Neuroscience Ph.D. Program unique?
The primary goal of the Neuroscience Program at Utah is to develop well-rounded scientists who are passionate about science and will become the next generation of leaders in our society.
The Neuroscience PhD Program at the University of Utah offers rigorous training through a combination of coursework, research training, mentoring, and professional development. More than 70 program faculty from 14 participating departments provide broad expertise from molecular and cellular neuroscience, to systems and cognitive neuroscience.
Students receive hands-on training and mentorship within a world-class research environment, collegial and collaborative mentorship and a vibrant research community. They have the unique opportunity to develop professionally through a variety of student leadership roles, such as organizing the Annual Snowbird Neuroscience Symposium and Neuroscience Program Speaker Series
Neuroscience Program brochure
Talk to a faculty member:
If you have questions regarding our Ph.D. program and you want to know more about the exciting opportunities for neuroscience students here in Utah, please email and schedule a virtual meeting with our Recruitment Chair, Dr. Jim Heys jim.heys@neuro.utah.edu
Virtual Open House: November 9, 2021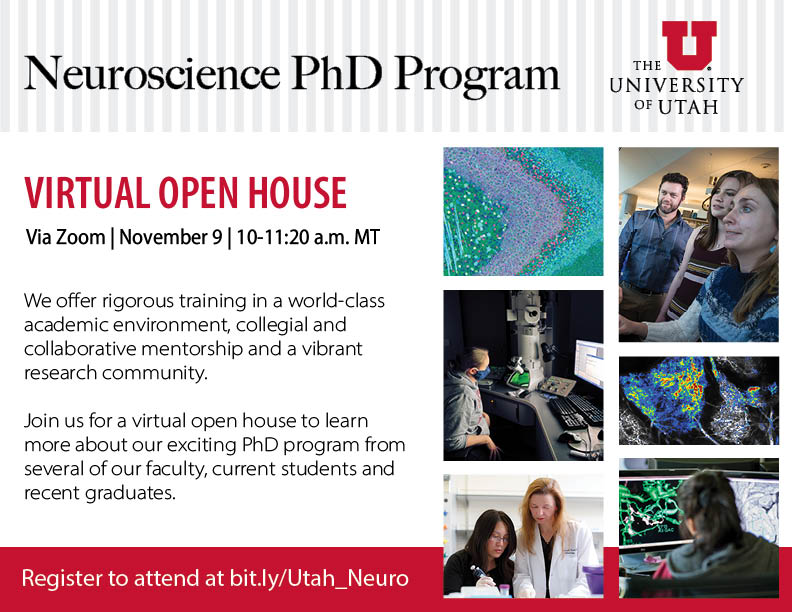 Meet one of students:
University of Utah Neuroscience Program: Success Starts Here
News and Events
Showcase:

CONGRATULATIONS PATRICK PARKER: James W. Prahl Memorial Award 2021 recipient
The James W. Prahl Memorial Award was established by his family, friends, and colleagues in 1979 after a climbing accident took his life. James W. Prahl, MD, PhD, a physician and scientist, was a member of the university faculty from 1975–1979. This award is presented annually to the
outstanding PhD graduate in the Health Sciences at the University of Utah. Applications are accepted each year in February.
---
Make a Difference
Give Now
---