F. Edward Dudek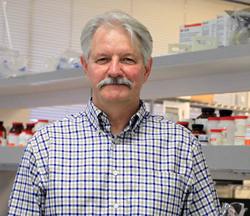 Professor and Vice-Chair of Translational Research, Department of Neurosurgery
Neurobiology of Disease
Cellular Neuroscience
Brain and Behavior
e-mail: Ed.Dudek@hsc.utah.edu
B.S. 1969, University of California, Irvine; Ph.D. 1973, University of California, Irvine
RESEARCH:
Mechanisms and animal models of acquired epilepsy
Our research group has traditionally investigated broad questions concerning mechanisms of neuronal communication in the mammalian brain; however, over the last decade, we have focused on the problem of how brain injuries lead to acquired epilepsy (i.e., epileptogenesis). We have developed or modified different animal models (i.e., status epilepticus, perinatal stroke and traumatic brain injury) to better allow us to investigate how these types of brain insult cause – after a latent period – spontaneous recurrent seizures, which is the hallmark of chronic epilepsy. Most of our research involves the hippocampus and/or neocortex, but we have studied numerous areas of the mammalian brain. We use a wide range of methods, with an emphasis on anatomic and electrophysiological techniques in the brain slice preparation and in freely behaving animals. Our group has extensive experience with radiotelemetry, and we have developed new methods for miniature wireless telemetry. These latter techniques have facilitated our research with animal models of pediatric epilepsy. Our goal is to understand the mechanisms that underlie acute and chronic seizure generation, so that we can develop new therapies for epilepsy.
Selected Publications:
Rodgers, K.M., Dudek, F.E., and Barth, D.S. (2015) Progressive, seizure-like, spike-wave discharges are common in both injured and uninjured Sprague-Dawley rats: Implications for the fluid percussion injury model of post-traumatic epilepsy. J. Neurosci., 35:9194-9204.
Spampanato, J., and Dudek, F.E. (2014) Valnoctamide enhances phasic inhibition: A potential target mechanism for the treatment of benzodiazepine-refractory status epilepticus. Epilepsia, 55:e94-98.
Zayachkivsky, A., Lehmkuhle, M.J., Fisher, J.H., Ekstrand, J.J., and Dudek, F.E. (2013) Recording EEG in immature rats with a novel miniature telemetry system. J. Neurophysiol., 109:900-911.
Scholl, E.A., Dudek, F.E., and Ekstrand, J.J. (2013) Neuronal degeneration is observed in multiple regions outside the hippocampus after lithium pilocarpine-induced status epilepticus in the immature rat. Neuroscience, 252:45-59.
Jiang, J., Quan, Y., Ganesh, T., Pouliot, W.A., Dudek, F.E., and Dingledine, R. (2013) Inhibition of the prostaglandin receptor EP2 following status epilepticus reduces delayed mortality and brain inflammation. Proc. Natl Acad. Sci. USA, 110:3591-3596.
Pouliot, W., Bialer, M., Hen, N., Shekh-Ahmad, T., Kaufmann, D., Yagen, B., Ricks, K., Roach, B., Nelson, C., and Dudek, F.E. (2013) A comparative electrographic analysis of the effect of sec-butyl-propylacetamide on pharmacoresistant status epilepticus. Neuroscience, 231:145-156.
Ali, A., Dua, Y., Constance, J.E., Franklin, M.R., and Dudek, F.E. (2012) A once-per-day drug-in-food protocol for prolonged administration of antiepileptic drugs in animal models. Epilepsia, 53:199-206.
Kadam, S., White, A.M., Staley, K.J. and Dudek, F.E. (2010) Continuous electroencephalographic monitoring wit radio-telemetry in a rat model of perinatal hypoxia-ischemia reveals progressive post-stroke epilepsy. J. Neurosci., 30:405-415.
Williams, P.A., White, A.M., Clark, S., Ferraro, D.J., Swiercz, W., Staley,K.J. and Dudek, F.E. (2009) Development of spontaneous recurrent seizures after kainate-induced status epilepticus. J. Neurosci., 29:2103-2112.