John M. Hoffman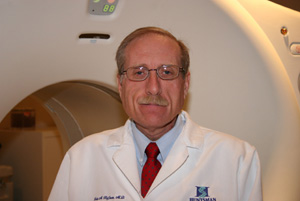 Willard Snow Hansen Presidential Endowed Chair in Cancer Research
Professor of Radiology and Imaging Sciences and Neurology
Co-Director: Center for Quantitative Cancer Imaging, Huntsman Cancer Institute
The Hoffman lab
Brain and Behavior
e-mail: john.hoffman@hci.utah.edu
B.S.E. 1977, University of Pennsylvania; M.D. 1980, University of Colorado; Residency, Neurosurgery 1981-1983, University of Washington, Seattle, WA; Residency, Neurology 1983-1986, University of Washington, Seattle, WA; Fellowship, Nuclear Medicine/PET 1986-1989, UCLA School of Medicine, Los Angeles, CA
Research
Modern imaging techniques including positron emission tomography (PET), MRI, and autoradiography to understand clinically relevant brain related problems and biologic processes
Dr. Hoffman has a particular interest in the use of PET imaging as a biomarker in therapeutic drug trials and in personalized medicine. He has many years experience, background, and knowledge of the regulatory approval process for PET imaging agents. He has filed 12 Investigational New Drug (IND) applications during his academic career. His own research activities include the use of PET imaging techniques to assess malignancy in both basic science studies and clinical trials; assessment of early response to cancer therapy; and in studying disorders of the nervous system. Other focuses of his research are in the use of PET imaging to understand cancer-associated physiologic changes and complications including the effects of chemotherapy on cognitive function, cardiac function, and muscle weakness/fatigue. Specific projects include:
Studies to assess the efficacy of various PET radiopharmaceuticals used alone and in combination to assess the biology of brain tumors before and after treatment
Studies using quantitative FDG-PET, functional MRI (fMRI) with several activation paradigms, an extensive neuropsychological test battery, and co-registered anatomic MRI imaging to better understand the cognitive disorder known as "chemobrain".
Studies comparing various image interpretation strategies and parameters in patients with dementia
Studies using FDG and the novel imaging agent to explore the biodistribution of amyloid plaques in various cognitive disorders.
Studies using advanced imaging techniques are being explored to better understand the pathophysiology of inflamation in sepsis, and degenerative neurologic conditions such as Alzheimer's disease.
Selected Publications