Julie R. Korenberg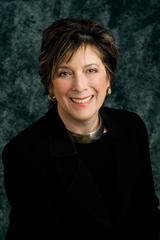 Professor of Pediatrics
Director, Center for Integrated Neuroscience and Human Behavior

Neurobiology of Disease
Brain and Behavior
e-mail: julie.korenberg@hsc.utah.edu
B.Sc. 1968 McGill University, Montreal, Quebec; M.S. 1976 Medical Genetics, University of Wisconsin, Madison; Ph.D. 1976 Medical Genetics, University of Wisconsin, Madison; M.D. 1979 University of Miami School of Medicine; Postdoctoral Fellow 1976-1977 University of Wisconsin, Madison
RESEARCH:
Genetics, neurobiology and multiscale imaging of neural circuitry for disorders of social behavior, animal and human models
Dr. Korenberg is an internationally recognized leader in human and molecular genetics. She has dedicated her career to understanding the genetic underpinnings of Down Syndrome and Williams Syndrome, advancing development of better treatments and prevention methods.
Upon completion of her doctoral education in Medical Genetics at the University of Wisconsin-Madison, Dr. Korenberg obtained her medical degree from the joint Ph.D.-M.D. program at the University of Miami School of Medicine. She advanced her understanding of childhood developmental diseases while completing her residency at Harvard Medical School's Children's Hospital in Boston, MA and a postdoctoral fellowship at the University of California, San Francisco.
As a Professor of Pediatrics and Human Genetics at UCLA, Dr. Korenberg was honored with the UCLA Woman of Science Award in 1996 for her pioneering work on Human Genome Project and the genetic origins of brain function in learning and behavior. She created the first Integrated Human BAC Resource, linking the human genome sequence to cancer, and has developed four patented methods of genetic mapping.
Dr. Korenberg has a longstanding interest in Down syndrome, the most common cause of congenital mental retardation and heart disease. Also referred to as trisomy 21, Down syndrome is caused by an extra copy of a large region of chromosome 21-spanning over 220 genes. She is currently investigating how genetic mutations lead to the changes in brain circuitry that cause cognitive deficits in Down syndrome. She hopes to use these discoveries to identify medications targeting these structural abnormalities.
As Dr. Korenberg explains, her current research into Williams syndrome (WS) explores "the very pathways that we often think of as distinguishing us as human" by linking genes to brain circuits to behavior. Individuals with Williams Syndrome have specific "hypersocial" behaviors. These patients consider everyone their friend, and are compelled to interact with strangers. They also exhibit distinct physical characteristics, experience cognitive deficits, and suffer from cardiovascular difficulties.
Williams Syndrome is caused by a genetic mutation- approximately 25 genes are deleted from one of two copies of chromosome 7. Within this small chromosomal deletion lie the genes responsible for the distinct physical and behavioral characteristics in these patients.
Dr. Korenberg is decoding the mysteries of human behavior by honing in on the genes that give those with Williams Syndrome their distinguishing outgoing personality traits. There are rare cases of the disease where individuals demonstrate the physical characteristics of Williams, but not the hypersocial behaviors. Dr. Korenberg has identified four genes that are only deleted in patients exhibiting excessive social behavior, suggesting that one or more of these genes are responsible.
She is also employing magnetic resonance imaging (MRI) to compare brains of those with Williams Syndrome with brains of normally developing individuals. Using these methods, she has found abnormalities in the structure of the orbitofrontal cortex (OFC) in those with Williams. The OFC, which is involved in multisensory integration and reward, is linked to the limbic system, which controls social behavior and emotion. Miscommunication between the OFC and limbic system could be responsible for generating or reinforcing unusual behaviors associated with the disease. Dr. Korenberg hopes to determine whether these four candidate genes play a role in forming limbic circuits. Such a finding could illuminate the biological pathway of hypersocial behaviors.
Dr. Korenberg holds memberships in numerous professional organizations and societies, including the American College of Medical Genetics, American Society of Human Genetics, American Association for the Advancement of Science, the Society for Pediatric Research and the Human Genome Organization. She has published over 160 peer-reviewed research papers. Dr. Korenberg's work currently is funded by the state of Utah's science and technology initiative, USTAR, the National Institutes of Health and the McDonnell Foundation.
Selected Publications:
Gao, M.C., Bellugi, U., Dai, L., Mills, D.L., Reiss, A.L., Sobel, E., Langeef, K. and Korenberg, J.R. (2010) Intelligence in Williams Syndrome is Related to STX1A, Which Encodes a Component of the Presynaptic SNARE Complex. PLoS ONE, 5(4), April. PMID: 20422020
Korbel, J.O., Tirosh-Wagner, T., Urban, A.E., Chen, X.N., Kasowsk, M., Dai, L., Grubert, F., Erdman, C., Gao, M.C., Lange, K., Sobel, E.M., Barlow, G.M., Aylsworth, A.S., Carpenter, N.J., Clark, R.D., Cohen, M.Y., Doran, E., Falik-Zaccai, T., Lewin, S.O., Lott, I.T., McGillivray, B.C., Moeschler, J.B., Pettenati, M.J., Pueschel, S.M., Rao, K.W., Shaffer, L.G., Shohat, M., Van Riper, A.J., Warburton, D., Weissman, S., Gerstein, M.B., Snyder, M., and Korenberg, J.R. (2009) The Genetic Architecture of Down Syndrome Phenotypes Revealed by High Resolution Analysis of Human Segmental Trisomies. PNAS, 106(29):12031-12036.
Korenberg, J.R. (2009) Down syndrome: The crucible for treating genomic imbalance. Invited Commentary, Genetics in Medicine, 11(9):617-619. doi: 10.1097/GIM.0b013e3181b765e7
Dai, L., Mills, D., Bellugi, U., and Korenberg, J.R. (2009) Is It Williams Syndrome? GTF2IRD1 implicated in visual-spatial construction and GTF2I in sociability revealed by high resolution arrays. American Journal of Medical Genetics, 149A(3):302-314.
Baek, K.H., Lynch, R.C., Zaslavsky, A., Britt, A., Okada, Y., Siarey, R.J., Yoon, S.S., Reeves, R., Korenberg, J.R., Folkman, J., Aird, W.C., Galdzicki, Z., and Ryeom, S. (2009) Down syndrome: Protection against tumor growth and the role of the endogenous calcineurin inhibitor DSCR1 (Down syndrome candidate region-1). Nature, Jun 25;459(7250):1126-1130. Epub 2009 May 20.
Amano, K., Fuji, M., Arata, S., Tojima, T., Ogawa, M., Morita, N., Shimohata, A., Furuichi, T., Itohara, S., Kamiguchi, H., Korenberg, J.R., Arata, A., and Yamakawa, K. (2009) DS, DSCAM Deficiency Causes Loss of Pre-Inspiratory Neuron Sychroneity and Perinatal Death. Journal of Neuroscience, 29(9):2984-2996.
Korenberg, J.R., Dai, L., Bellugi, U., Jarvinen-Pasley, A., Mills, D.L., Galaburda, A., Reiss, A.L., and Pober, B.R. (2008) Deletion of 7q11.23 Genes and Williams syndrome. In: Inborn Errors of Development. The Molecular Basis of Clinical Disorders of Morphogenesis, 2nd Ed. Epstein, CJ, Erickson, RP and Wynshaw-Boris A, Eds. New York, NY: Oxford University Press, pp 1544-1552.
Hoeft, F., Barnea-Goraly, N., Haas, B.W., Golarai, G., Ng, D., Mills, D., Korenberg, J.R., Bellugi, U., Galaburda, A., and Reiss, A.L. (2007) More is not always better: increased fractional anisotropy of superior longitudinal fasciculus associated with poor visuospatial abilities in Williams syndrome. Journal of Neuroscience, 27(44):11960-11965.
Van Essen, D.C., Hanlon, D., Snyder, A., Raichle, M.E., Reiss, A., Beluggi, U., et al. (2006) Symmetry of Cortical folding Abnormalities in Williams Syndrome Revealed by Surface-based Analyses. Journal of Neuroscience, 26(20):5470-5478.