Stefan-M. Pulst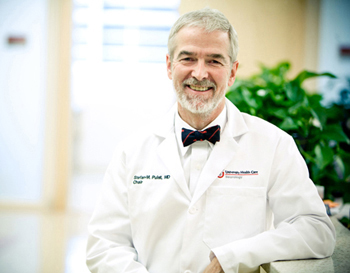 Professor and Chairman of Neurology
Neurobiology of Disease
e-mail: stefan.pulst@hsc.utah.edu
M.D. 1979, Medizinische Hochschule Hannover; Clinical Fellowship, 1981-1983, Harvard Medical School; Postdoctoral Fellowship, 1984-1986, University of California, San Francisco
---
RESEARCH:
Mechanisms of neuronal degeneration using molecular and cellular approaches as well as studies in behaving animals.
We are investigating the mechanisms of adult-onset neurodegeneration. Our studies usually begin with genetic analysis of human pedigrees followed by modeling the disease process in cultured cells or by introducing mutations into model systems. Our focus has been on the spinocerebellar ataxias (SCA2, SCA10, SCA13) and inherited forms of Parkinson disease, groups of diseases that lead to cell-type specific neurodegeneration.
Our laboratory has studied mechanisms of neurodegeneration using a variety of techniques and in a number of model organisms. We are currently examining how neuronal dysfunction and degeneration interact by studying Purkinje cell firing in SCA2 transgenic and SCA2 knockout animals. For these studies, we are examining genetic interactions by crossing our SCA2 (ATXN2) transgenic lines with different transgenic mouse lines bearing ion channel mutations. This is followed by morphologic and physiologic analyses and behavioral testing. As a novel way to study disease processes and potentially as a new avenue to treatment, we are also exploring ways to differentiate human iPS cells into cerebellar neurons.
In addition to mechanistic investigations, other members of the laboratory focus on translational neuroscience and the discovery of compounds to reduce ATXN2-mediated neurotoxicity. We are using high-throughput cell-based screening to identify compounds that down-regulate expression or stability of mutant proteins and compounds that interfere with abnormal calcium release from intracellular stores.
We are enthusiastic about students joining our groups either for rotations or longer term and can promise exposure to neurodegeneration from molecules to man.