Awais Riaz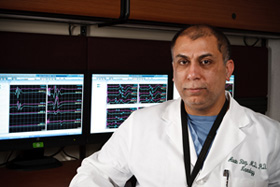 Assistant Professor of Neurology
Director, Intraoperative Neurophysiologic Monitoring
e-mail: awais.riaz@hsc.utah.edu
M.B.B.S. 1985, King Edward Medical University, Pakistan; Ph.D. 1993 Southern Illinois University
RESEARCH:
Epilepsy and general neurology
Intraoperative Neurophysiologic Monitoring (IOM) utilizes electrophysiological tests during a surgical procedure with the goal of minimizing the risk of injury to the brain, spinal cord or nerves. This is accomplished by early detection of changes in the electrical responses of the nervous system and warning the surgeon before severe or permanent injury is caused which could lead to neurological disability. These tests include evoked potentials (somatosensory, brainstem auditory, transcranial motor), electromyography (EMG), electroencephalography (EEG) and electrocorticography (Ecog).
Clinical and Research Interests:
Dr. Riaz's interests include developing protocols for pre-surgical, extraoperative mapping of the eloquent cortex and motor areas. Also to improve the existing protocols for intraoperative monitoring, incorporating evoked potentials, electroencephalography (EEG) and transcranial dopplers.
In light of the recent emphasis on translational research and in an attempt to bridge the clinical and basic epilepsy programs, he has developed an epilepsy course geared towards basic scientists. (Advances in Neuropharmacology, Comprehensive Management of Epilepsy-PHTX 7280). This unique course covers the entire spectrum of basic science and clinical aspects of epilepsy and is offered through the integrated neuroscience program in collaboration with Dr. Ed Dudek, Chair of Physiology, Dr. Steve White, Director, Anticonvulsant Drug Development Program and Dr. Karen Wilcox, senior scientist with the same program.
Dr. Riaz also offers a 4-6 weeks elective in Clinical Epilepsy/EEG for senior graduate students. This would include didactic lectures and rotation through the epilepsy clinic, presurgical evaluation for epilepsy surgery, surgical conference and intraoperative monitoring for motor and language mapping and electrocorticography. Graduate students interested in this rotation should contact Dr. Riaz through their mentors or program directors.
Selected Publications:
Matsuo, F., and Riaz, A. (2009) Lamotrigine, In: Shorvon S, Perucca E, Fish D, Dodson E (Eds.), The Treatment of Epilepsy 3rd Ed. Oxford: Blackwell Publishing. (in press)
Faingold, C.L., N'Gouemo, P., and Riaz, A. (1998) Ethanol and neurotransmitter interactions--from molecular to integrative effects. Prog Neurobiol, 55(5):509-535.
Faingold, C.L., and Riaz, A. (1995) Ethanol withdrawal induces increased firing in inferior colliculus neurons associated with audiogenic seizure susceptibility. Exp Neurol, 132(1):91-98.
Faingold, C.L., and Riaz, A. (1994) Increased responsiveness of pontine reticular formation neurons associated with audiogenic seizure susceptibility during ethanol withdrawal. Brain Res, 663(1):69-76.
Riaz, A., and Faingold, C.L. (1994) Seizures during ethanol withdrawal are blocked by focal microinjection of excitant amino acid antagonists into the inferior colliculus and pontine reticular formation. Alcohol Clin Exp Res, 18(6):1456-1462.